As a law firm, attorney, or insurance company, we know your focus needs to be on winning cases and settling claims. Researching custodians and ordering records can shift your focus away from clients. Collecting and organizing documents internally and making sure they are ready for court is many times not feasible, and hiring an internal specialist is unnecessary and could lead to a long term commitment you're not ready to engage upon.
Outsourcing for record retrieval can ensure expediency and effectiveness making all the difference when leading a legal team, providing services, and focusing on your clientele. This gives you more productivity and efficiency, and allows you to extend the best for your client. Working with a company you can trust, who values and appreciates each client, who respects all records and transacts all business with integrity, is paramount. You could turn to a national vendor, but when you choose a boutique service you gain the personal attention your needs require, making DAS your optimal choice.
Who is DAS?
DAS (Document Acquisition Service) has provided dependable, accurate, and secure service to those in the legal and insurance fields since 1988. DAS is a boutique company that specializes in handling your time consuming record and retrieval tasks serving Texas, Louisiana, and Oklahoma. Over our 33 years in business, who we've partnered with has allowed our expertise to build. Our team has highly experienced and tenured members along with new, energetic additions, making us the best company to provide top-notch document retrieval services to our customers and clients.
While we remain focused on developing, advancing and maintaining our cutting edge information technology systems; we are equally as focused on preserving the original customer centric business model, unlike the faceless and difficult, modern business model commonly seen today.

Phillip Klotz, Owner/Director of Operations & Development, DAS
What to expect?
When you work with DAS, you get full access to an experienced case specialist who will process your order, customizing it to your needs. This includes 24/7 access to an online repository for retrieving your records at the touch of a button. Our specialists review all records for accuracy, organize them in chronological and categorical order, bate stamp, bind and prepare all documents with a sealed court copy. DAS offers direct billing, and digital delivery as well as certified mail or courier with secured tracking when hard copies are needed.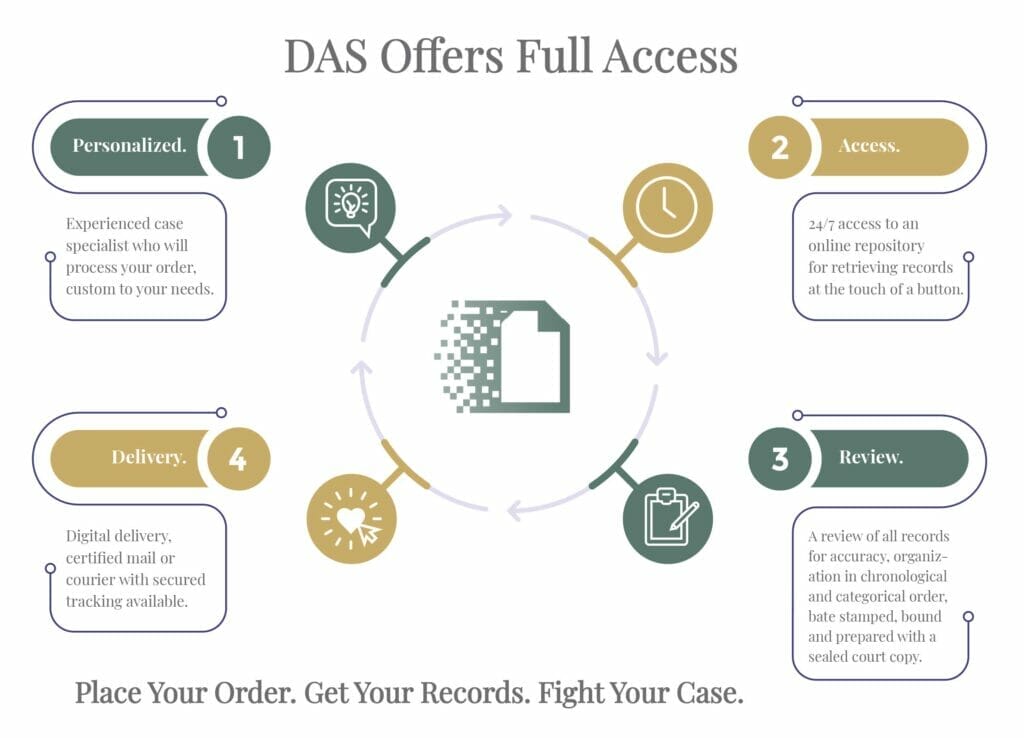 Here are many other services we provide that are included with our standard pricing for records retrieval services:
Legal Doc Preparation
Bates Numbering
Template Library
Records Prepayment
Legal Doc eFiling
Online Repository
Custodian Research
Bound Court Copy
Smart Organization
DICOM Solutions
OCR Searchable Text
How do we connect?
Ready to learn more? Visit our website and preview our online client center, where you will be able to place an order, make payments, and check order status at any time! Orders are accepted online, or via fax, email, or phone for your convenience. We're ready to partner together to ditch your shaky service and the stress of retrieving records and managing docs internally. Let DAS be your personalized, boutique service provider – give us a call today!
Document Acquisition Service
1201 Richardson Drive Suite 150
Richardson, TX. 75080

972.231.3807 (phone)