As of May of 2021, there have been significant changes surrounding the execution of Direct Written Questions (DWQ) in Texas courts of law. 
The Case: 
This new ruling was the result of the Supreme Court's ruling in McPheeters v. Tippett, a personal injury case in which the defendants argued that the trial court abused its discretion by quashing their discovery requests for information regarding the plaintiff's medical providers' negotiated rates and costs. The Supreme Court held that the trial did in fact abuse its discretion by denying outright the defendants' narrowed requests as some of the discovery requested was relevant, with sufficiently tailored requests, the providers and plaintiff failed to submit evidence establishing that the narrowed requests were unduly burdensome, and the trial court failed to consider whether a protective order would reasonably protect against the disclosure of confidential information or trade secrets. 
For more information about the case, see the opinion and briefs. 
Billing Record Requests Going Forward: 
So what does this ruling demand of DWQs for billing records going forward? They must be asked in greater detail. 
How DAS Can Help: 
In response to this new statute, we at DAS have expanded our library of DWQ templates to include a more detailed template specifically for billing records. This is in addition to our existing library of DWQ templates for employee records, medical records, and phone records, and more. 
Also included in our templates is a place to issue a notice to obtain medical, billing, employment, and bank records, as well as others. This allows for the simple, automatic formation of admissible records. Notices for non-admissible records, such as affidavits, can also be created—whatever is best for our clients.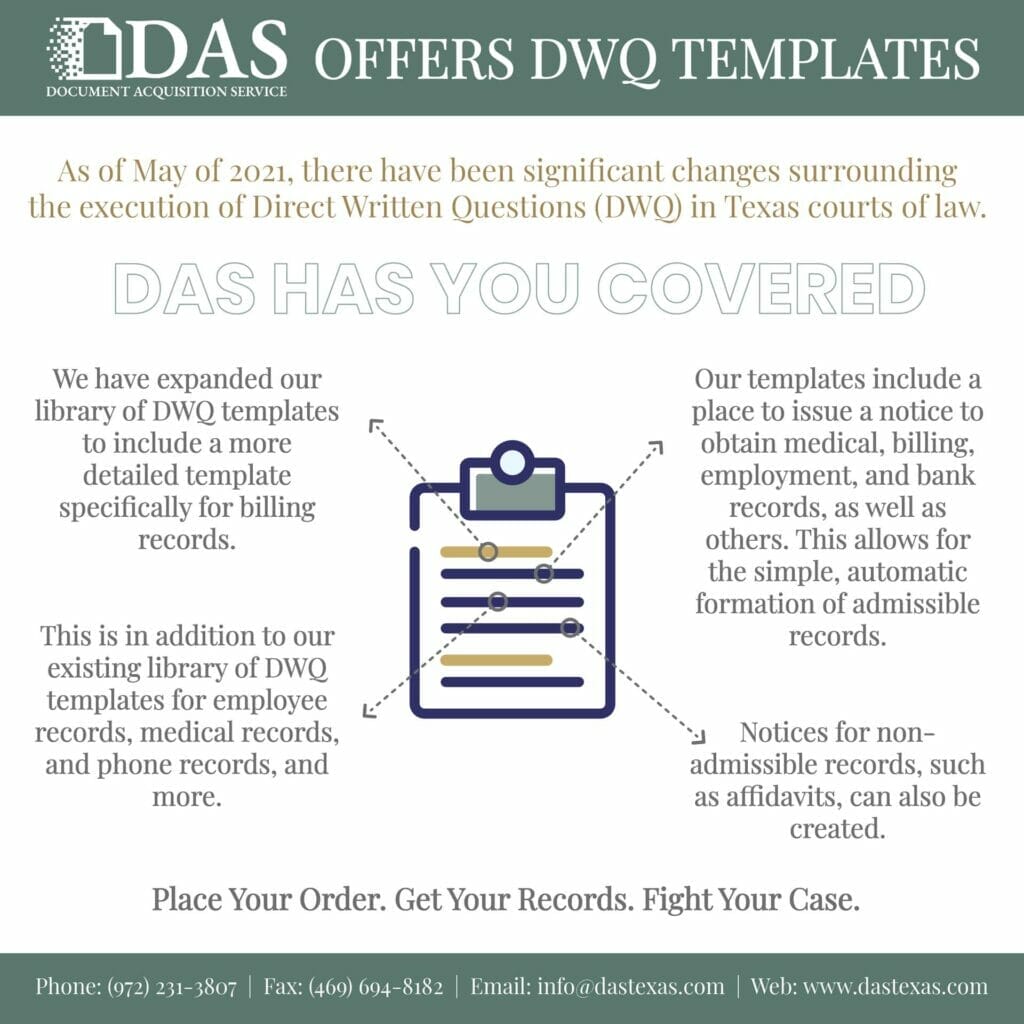 If you are interested in our record retrieval services, contact us, and gain access to our vast library of record requests today. With over 30 years of experience, DAS is the choice for all your DWQ needs and more!
Document Acquisition Service
1201 Richardson Drive Suite 150
Richardson, TX. 75080

972.231.3807 (phone)